Build a better online reputation on autopilot.
Linda Review Generation and Management Produces 4 & 5 Star Reviews on Autopilot for your Business Meaning More Rankings and Revenue.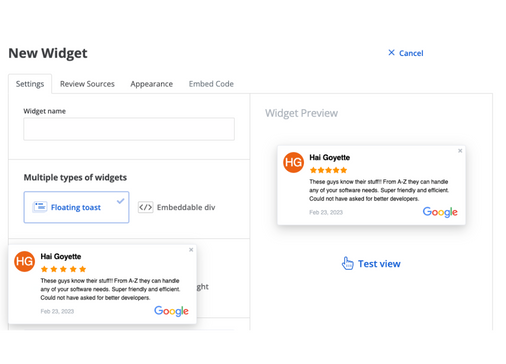 Drive more revenue
Drive more revenue by converting more website traffic into customers by prominently displaying your best reviews on your website via our beautiful review widget. Let Linda automate your way to making your business the obvious choice for your customers to choose.
No senseless bells and whistles that offer vanity features to drive up the price. Build smart review funnels and automate the outreach required to turn on a faucet of positive reviews all while catching unhappy customers before they leave negative feedback about your business online.
A true complete review management system to boost your visibility, trust, and sales
95% of your potential customers read reviews before making a purchase decision. You can use this as leverage to either help close sales or let it cost your fortune. With integrated support for 80+ platforms Linda ensures your reputation is stellar across the most important websites for your business.
Get Started
Generate reviews, generate revenue
Easily build or select a review request funnel from inside of your dashboard. Keep track of your review request outreach so you can make educated decisions on campaign tweaks or validate what is working for you.
Integrate into your CRM to automatically request reviews from customers or add your customer lists at your leisure to initiate the campaign. The system does the rest of the work and will send review requests and generate reviews for your business on autopilot.
Get Started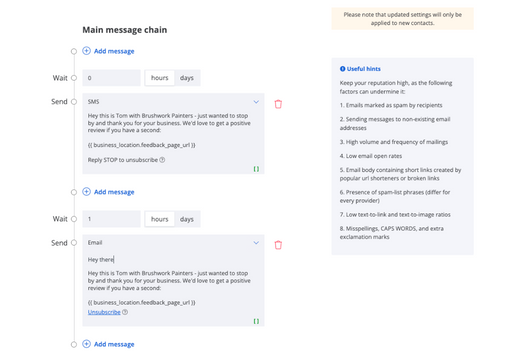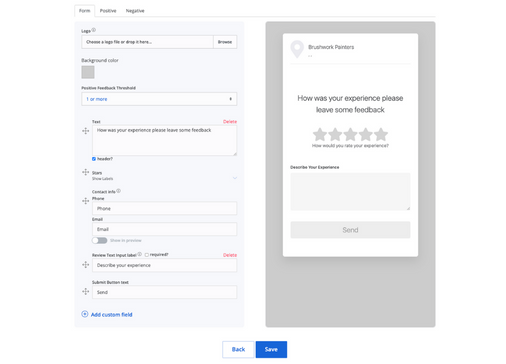 Keep a pulse on your brand feedback
Identify the sentiment of your customers across all of the top platforms. Get notified when reviews are left and deploy a protocol for negative feedback mitigation right from within your dashboard.
Linda will monitor your reviews across all of the top platforms on the internet and aggregate them into your dashboard.
Did you know, even if you get a negative review you can win customers through a response that shows you care and are willing to work with the customer to fix the problem?
People also expect a brand to be monitoring their reviews and responding in a timely manner. It shows that in this golden age of digital interactions that business voices are spoken by real empathetic people that truly care about their community and customers.
Linda gives businesses that authentic voice and allows it all to be managed and monitored from one hub and control the narrative surrounding your brand and services.
Get Started
Put your reviews to work for you
Linda ensures your reviews are working for you. Having them displayed on top trustworthy sites and profiles where people leave them is a great start, but we take things a step further by displaying them on your website as well.
An easy to configure and customizable widget will put your best feedback front and center for visitors to read while they search your services. Studies have shown that displaying reviews can increase conversions by more than 30%.
Pull out your best reviews and use them in your social media marketing and as media for your ad campaigns.
Get Started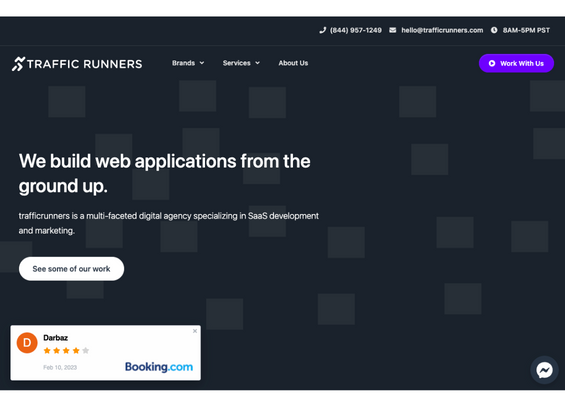 Tap into one of the largest segments of viewed media on the internet
Video, especially short form video "reels" or "Tik Tok" style videos, have taken over the internet. With video already being a dominant content format that people consume, the rise of these small videos have completely changed how people take in messaging from influencers and brands.
Linda helps you generate short review videos from your customers so you can tap into the "micro-reel" craze. Add positive video reviews to your website, social channels, and embed it into your internal marketing message.
Harness the power of the fastest growing content type online and grow the heck out of your business while doing it.
Learn more
Turn your Front Desk, Tablet, or Cell Phone into a Kiosk for Review Generation
Linda enables you to generate reviews via a QR code scan so you can catch people leaving your office or showroom with a tablet supported "kiosk" or turn a cell phone into a mobile review generation station.
Never worry about losing an opportunity to convert a happy customer into a 4 or 5 star review on the spot.
Transformation by the numbers
40%
Reduction
in developer onboarding time *
469%
Return on investment
over 3 years *
60+
Minutes saved
per developer, per day *
* Results based on a composite organization of 1,800 developers using GitHub over three years.
Frequently Asked Questions
Have a different question and can't find the answer you're looking for? Reach out to our support team by sending us an email and we'll get back to you as soon as we can.
Do you guarantee we will generate a certain number of reviews?

Great question! The number of reviews you generate will be contingent on the amount of happy customers you have to send requests to. It is a bit of a numbers game as a certain number of people will ignore your request, a certain number will leave feedback, and a percentage of that will be in the form of 4 and 5 star reviews.

Is it safe to generate reviews in this way?

Yep! We are simply scaling and automating your ability to engage with customers and garner their good feedback. There is nothing unethical, immoral, or illegal about asking for feedback for your business.

How do I get the system to reach out to my customers?

Linda is adept at conforming to your needs. You use Zapier to plug customers into Linda directly from your CRM to make it a complete hands off process. If you want to have more manual control you can also put customers into the system via spreadsheet upload at whatever interval you please.

Does this integrate with my CRM?

Most likely! We integrate with a majority of the CRMs on the market through our Zapier integration. Most CRMs have the ability to "zap" data from their platform to other platforms that have Zapier integrations. Here is a list of CRMs from Zapier that they support https://zapier.com/apps/categories/crm. If you do not see your CRM on that list, check with your CRM platform to confirm they do or do not support Zapier. If not, politely ask them to build an integration to do so, it's the 2020s and everyone supports Zapier these days 😀

Can I review "gate" with this tool? Is that allowed? Is it illegal?

Lots to unpack here...

Yes, with our platform you can set up review "gating" or review funnels where if someone expresses they had a bad experience, you can route them to a manager or your customer support team.

You do NOT have to set up this functionality if you do not want to.

Platforms like Google have expressed that they do not want people using this strategy to shield themselves from bad reviews and do not look kindly upon it as a protocol for people to use in their review generation process.

Having said that, we are NOT lawyers but there is no law written that forbids us from discerning what is good and bad feedback internally and mitigating situations that caused unhappy customers before they leave negative feedback or if people are happy asking them to leave a review.

If you are using it as a way to try and stifle bad reviews because you are knowingly providing a bad service or product, shame on you for trying to ruin it for everyone. If you are using it as a tool to adapt and improve your business then I would argue it's the ethically sound thing to do.

Is there a limit to the number of reviews I can generate? Will you charge me more if I cross a threshold?

No way!! We want you to generate as many positive reviews as possible. The only thing that might run up some additional costs is SMS credits if the volume of text messages you're sending is more than your allotted monthly allowance.

With that said, SMS credit packs are inexpensive and can be used to expand your allowance ongoing or just one time for a nominal fee. Ping us on live chat or shoot us an email and we will be happy to get you sorted.

MOST businesses will NOT run into this problem as we provide a lot of SMS credits per month.

What review platforms do you support generating reviews on?

We support all of the major platforms like Google, Facebook, Yelp, industry specific platforms and niche platforms for a grand total of 80+ platforms natively integrated.

Can I send review requests via SMS and Email?

Yes, every business gets access to SMS and email channels for sending review requests. Emails can be set up on custom sub domains and SMS requests can be sent from unique, local phone numbers.

Can you help me set up a Review Request campaign?

Yes, there are two options for having our team set up your Review Campaigns. DFY customers automatically get setup handled by our team and DIY customers have an opportunity during sign up to purchase a concierge set up add on.

My competitors have A LOT of reviews and I have few to none: is there any hope?

Yes! Any number of reviews help your business gain trust in the eyes of online prospects and Google's ranking algorithm includes diminishing rewards for reviews so get started closing the gap today.