Rank Better and Attract More Clicks and Customers with the Most Powerful Listings Tech on the Market
Harness our technology to turn hundreds of the top websites into a marketing channel for your local business.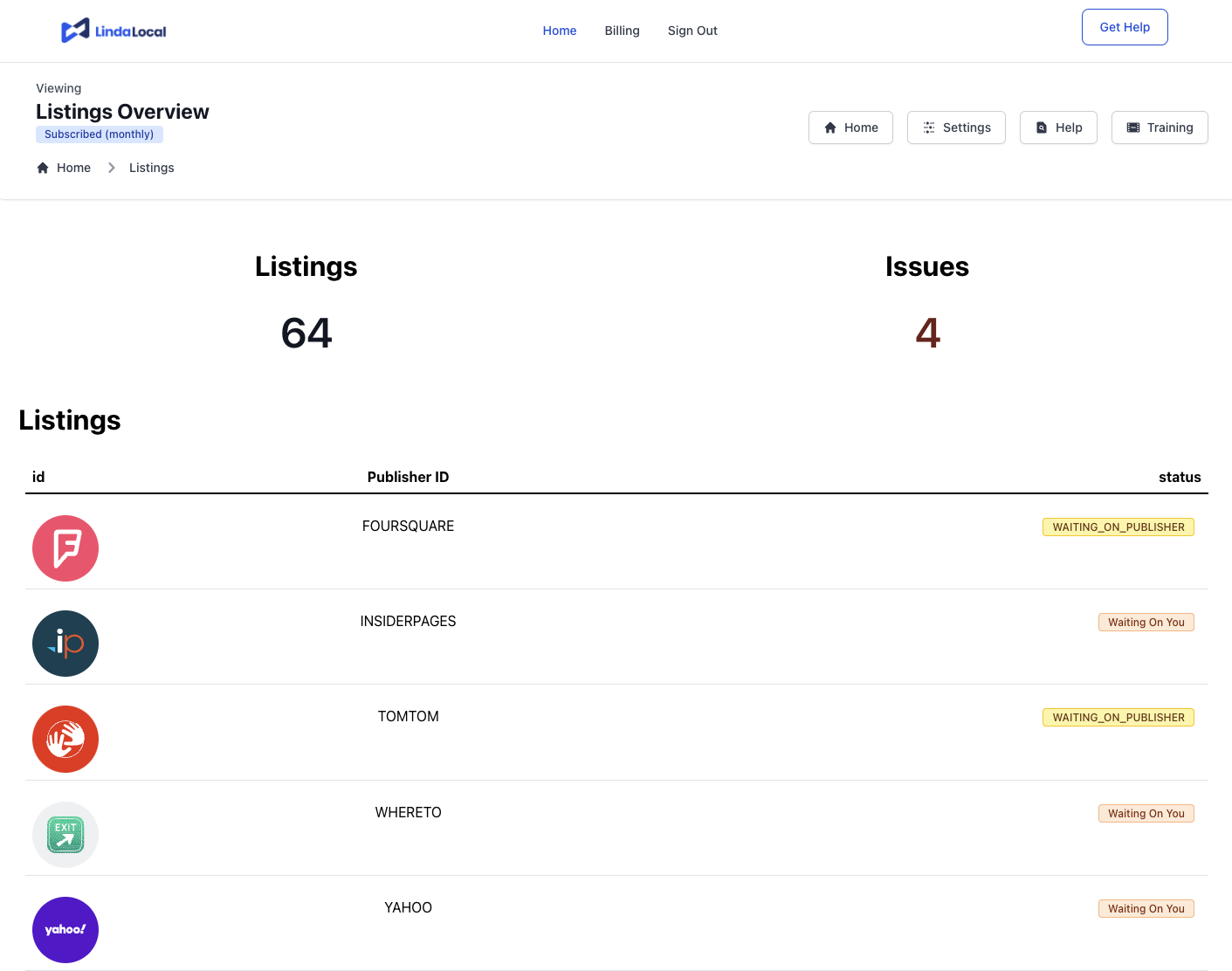 Push your business information in front of in-market people looking for your services and products.
Data Syndication
Having your information on your website and personally owned properties is essential, but imagine if you could show your information to people looking for your services on the top GPS, Map platforms, local directory services, etc.
Local Signals
Linda will use your business information to automate the build of hundreds of profiles on the top platforms responsible for powerful local signals to boost your website and Google Profile rankings as well as driving real high interest buyers to your brand.
Stay Up To Date
Keeping your data in sync across your business listings can be time consuming and painful - but not with Linda.
Linda Gives you Access to Hundreds of Deeply Integrated Publishing Partners
Building the listings is a great first step but we also allow for the management of these listings at scale from one central point of truth, your Linda dashboard. Worry not about the nuances that exist from one platform to another. Our deep dual sync integrations mitigates this.
Each platform is integrated precisely so their unique requests for fields of data and protocols are manageable within our system without the need to build, update, and manage hundreds of listings manually.
Central dashboard view makes scanning over your brand's assets simple and the perusal of hundreds of listings extremely digestible. From a high level navigate deep into individual listings or click into broader analytics.

Every listing will have a dedicated page inside of your dash you can click into for more details. These pages will give you more information about that platform, display any issues with the listing or the website itself, allow you to configure settings specifically for that listing if you so wish and more!

Linda's dual sync system is constantly "listening" and alerting users if there is an issue with the sites in the system.

Deep level configurations allow you to decide which fields sync to which platforms. This allows you to get as granular as you wish when it comes to pushing data and media to different platforms or if you want unique content on certain platforms.
Sync Your Data Instantly
Linda syncs with dozens of directories and business listings.
Consistency
Plan it, create it, launch it. Collaborate seamlessly with all the organization and hit your marketing goals every month with our marketing plan.
Coverage
Protect your organization, devices and stay compliant with our structured workflows and custom permissions made for you.
Primary Listings
Auto-assign tasks, send Slack messages, and much more. Now power up with hundreds of new templates to help you get started.
Finance
Audit-proof software built for critical financial operations like month-end close and quarterly budgeting.
Enterprise Design
Craft beautiful, delightful experiences for both marketing and product with real cross-company collaboration.
Operations
Keep your company's lights on with customizable, iterative, and structured workflows built for all efficient teams and individual.
Enterprise Design
Craft beautiful, delightful experiences for both marketing and product with real cross-company collaboration.
Operations
Keep your company's lights on with customizable, iterative, and structured workflows built for all efficient teams and individual.
Intelligent Listing Acquisition, Verification, and Auditing
Linda rigorously scans all of the potential listings for your business so it doesn't have to be a manual process. Our system will spit out reporting for errors and inconsistencies with your listings. All of the issues can then be fixed with a single click to deploy the proper data of your business.
This data will be broken down into a table view so you can see all of your business fields side by side and understand what platforms have issues and with which field. A simple report will show you the strength of your listings so you can be sure you are always optimized for maximum exposure.
Learn more
Let Linda Analyze the Performance of your Listings
Get a comprehensive view of how your customers are interacting with your organization online with Listings Analytics. Linda's extensive publisher network allows for direct integrations, meaning that you can access a wealth of user data and performance metrics from a single centralized location. With our system, you have the power to analyze performance data for all time periods, compare data between different time periods, and even compare data across various locations.
By identifying trends and uncovering opportunities, We make it easy to gain actionable insights that can drive your business forward. Say goodbye to guesswork and hello to data-driven decision making with Linda.
Having accurate and up-to-date listings is important, but it's equally essential to make sure that customers are actually seeing those listings. With Linda, you can track the number of impressions your listings receive on various apps and devices within the publisher network. This information can help you gauge the "findability" of your listings among customers and inform changes to your content strategy.
Quantifying how many times your listings show up in search results gains you valuable insights that can help you optimize your listings for maximum visibility. Wield powerful tools for any business looking to increase their online visibility and attract more customers.
Linda analyzes the actions customers take on your listings so you can gain valuable insights into their journey and behavior. With our platform, you can track key actions like "Get Directions," "Call," "Book Appointment," "Order Now," and "Send a Message" on various publishers, such as Google Business Profile.
The tracking of user data from these actions, you can quantify the conversions and business opportunities that are directly driven by your listings.
Additionally, interactions such as messages and suggestions can provide opportunities to improve and expand upon your existing content. Enter Linda where you have the power to optimize your listings and engage with customers in meaningful ways that drive business growth.
We didn't Unparalleled Duplicate Identification and Suppression Technology
Ideally, each business entity would have only one listing per publisher. However, duplicates can occur due to various factors such as user contributions, conflicting data sources, and changes in branding.
Duplicate listings can have a negative impact on your brand, resulting in decreased rank in search results, consumer confusion, and reduced reach for the correct listing.
With Linda, you can ensure that your brand is presenting accurate and consistent information across all publishers, thereby enhancing your online presence and customer engagement. We are a smart decision for any business looking to maintain a strong and unified brand identity across multiple online channels.
Linda provides a straightforward process for reviewing potential duplicate listings directly in the platform. Users can simply click "Suppress" if the listing is a duplicate or "Not a Duplicate" if it isn't. By using this feature, users can help ensure that only the most accurate and up-to-date information is displayed on publisher platforms.
When a user suppresses a duplicate listing, this information is automatically sent to the publisher for review and removal, helping to maintain the integrity of your brand and avoid any negative impact that duplicate listings can have on your online presence. Managing your online listings and ensuring consistent and accurate information has never been easier.
Frequently asked questions
Have a question about our listing management service?
Are you guys botting the listings?
Nopers! We use direct integration with the different websites and platforms so there are no exploitative measures taken to build, manage, or interact with any of the platforms in an exploitative manner.
How does Linda help with online listings?
Linda helps businesses manage their online listings across multiple directories and platforms. It allows you to update your business information in real-time, ensuring that your listings are accurate and consistent across all channels. This helps improve your online visibility and local SEO, making it easier for customers to find your business.
What are some benefits of using Linda instead of generating my listings manually?
Using Linda can save you time and effort by streamlining the process of managing your online listings. It also helps ensure that your information is accurate and consistent across all channels, which can improve your online visibility and local SEO. Additionally, Linda provides analytics and insights into how your listings are performing, allowing you to make data-driven decisions to improve your online presence.
Feel free to contact us and we'll help you out as soon as we can.
Can I use Linda to manage my listings on specific platforms only?
Yes, Linda allows you to select which platforms you want to manage your listings on, so you can tailor your approach to your specific needs and preferences.
Can I add custom fields to my Linda listings?
Yes, you can add custom fields to your Linda listings to provide more detailed information about your business.
How does Linda ensure the accuracy of my listings?
Linda uses direct integrations with publishers to ensure that information is up-to-date and accurate across all directories.
How does Linda compare to other citation management platforms?
Most platforms are built entirely around the idea of building and managing citations. To Linda this is just one feature inside of a large suite of tools to help you with the digital side of your business.
Can I use Linda to manage listings for multiple locations of my business?
Yes, Linda offers features for managing listings for multiple locations of a business.
How does Linda handle changes to my business information, such as a change of address or phone number?
Linda platform allows you to easily update your business information across all directories, ensuring consistency and accuracy.
Will my listings get deleted if I cancel?
Nope. We or the Linda system will not touch your listings. This is one of the larger pain points that have manifested due to listings management platforms gaining popularity and the rumors that some of them tried to hold customers hostage through the deletion of their profiles if they cancel their subscription.