Increase Conversions up to 300% with a Simple Website Live Chat
Convert More Visitors into Customers with AI Assisted Omnichannel Sales Conversations at your Fingertips.
90% Of Your Traffic Leaves
Did you know over 90% of your website visitors leave without ever calling you, filling out a form, or interacting with your brand whatsoever?
Imagine if you could capture even a fraction of those visitors and convert them into customers of your product or service? Linda allows you to do just that. Our easy to install widget instantly transforms your staff's cellophanes into an AI assisted lead and sales conversion machine. Or, their computers. Whether 'on the go' or behind a desk you and your team can start turning website visitors into bottom line revenue for your business.
Linda is multilingual and we have support for a dozen languages

Keep congruent branding with customizable colors for your chat widget

Seamless cross channel conversational continuity. Go from your chat widget to email

Use emojis in your messages. Add attachments to your chat. Linda offers a truly modern and useful conversational utility

Our popout UI makes for unobtrusive messaging without ruining the surfing experience of the website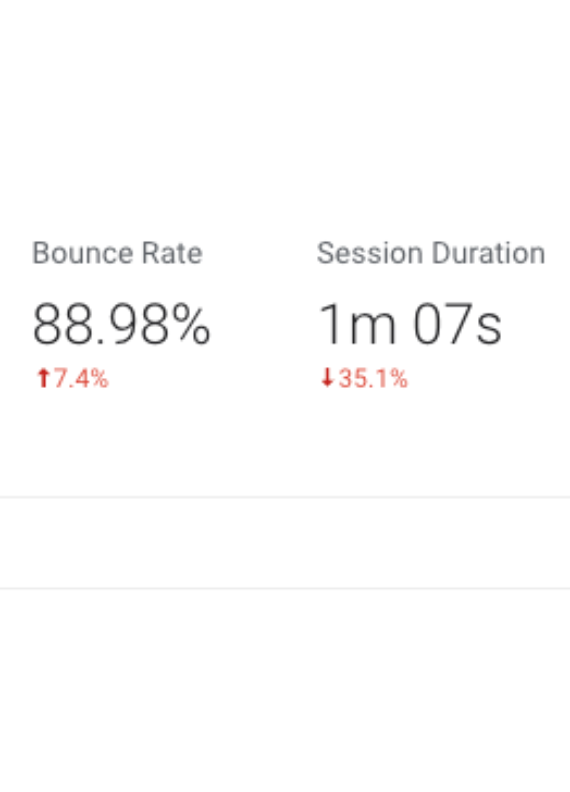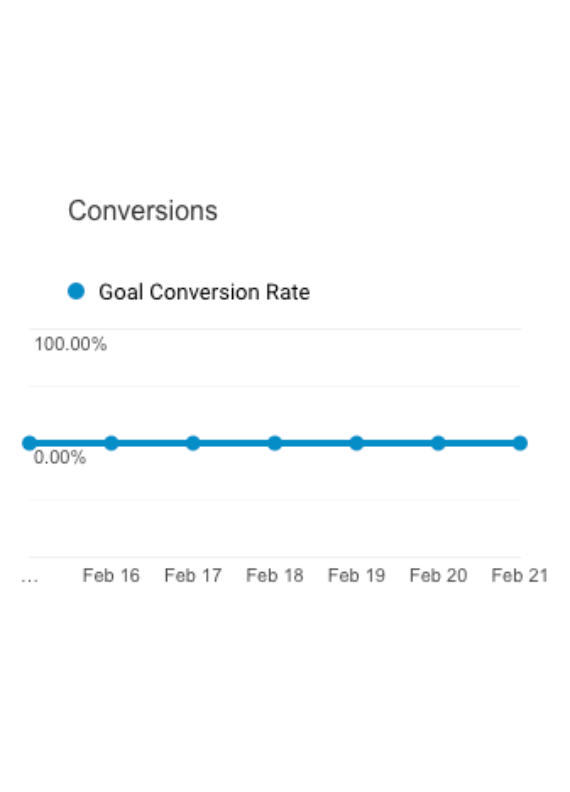 Get started today
Increase your visibility with Linda - get started now.
Get Started
Linda's Omnichannel Inbox Keeps all of your Customer and Sales Support in ONE Place
Potential customers getting lost in your Facebook page messenger? Leads or requests for proposals sitting in your email? Lack of SMS support giving your competitors an edge because of their convenient conversation system?
No more. Not with Linda.
We take all of the platforms you use to grow and support your business on a daily basis and channel them all into your dashboard.
All of your marketing channels are served from one app on your mobile device or at your desktop. On a tablet at your customer location or from your laptop on a sunny beach. You are only limited by your imagination and internet connection.
Save yourself a career of headaches and meld all of your brand support into one view.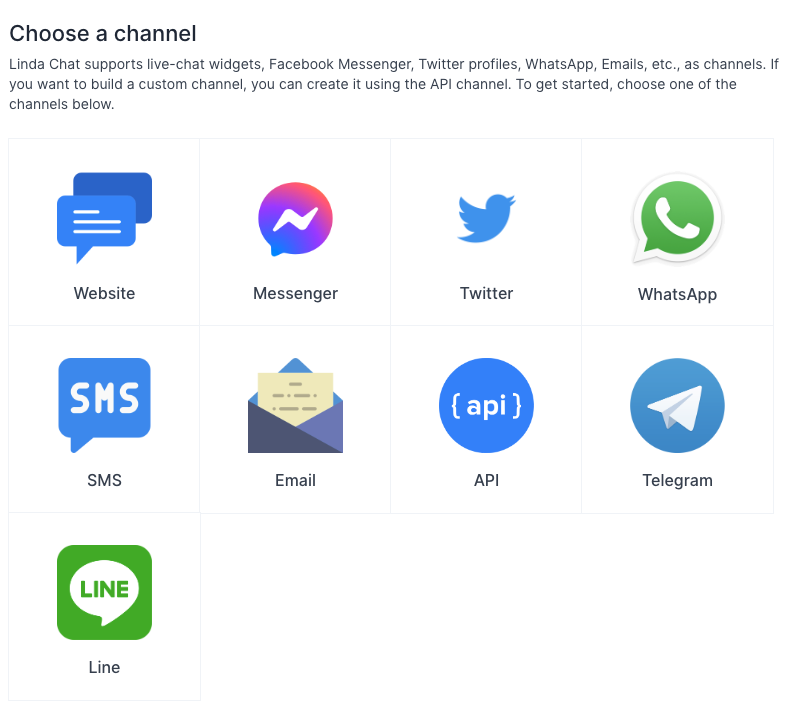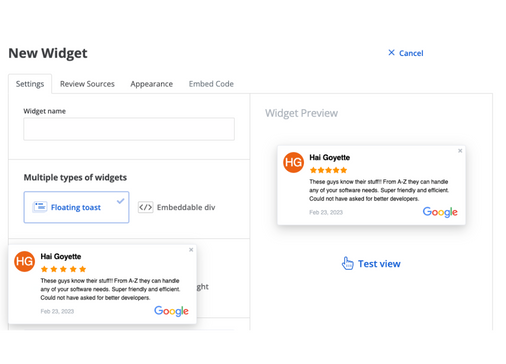 Automate Hours Of Your Workload Away
AI is no longer the future; it's now and those that ignore it will waste a lot of time and energy. Linda allows for AI fueled chatbots to live inside of your chat widget. Deliver guided conversations to help customers and maneuver visitors into leads, booked appointments, and sales.
Rich message content types are supported like cards, links, product/service carousels, etc. to add a stylish flair to your chat widget as well as drive people to helpful content/links to assist them down the path of conversion.
Your team members can enter into and take over the chat anytime to provide a human element whenever needed.
Flawless Team Collaboration Capabilities Provide the Best Support and Sales Experiences
Linda provides an "inbox" that allows your entire team to coordinate and turbocharge your customer support and sales. Assign chats or have staff pluck them out as they come in. Use @mentions to tag different team members and bring them in to provide a seamless conversational experience for users.
Your team can add private notes to a visitor to ensure optimal performance from team members. Linda turns disparate departments and people into a unified, AI assisted customer support and salesforce.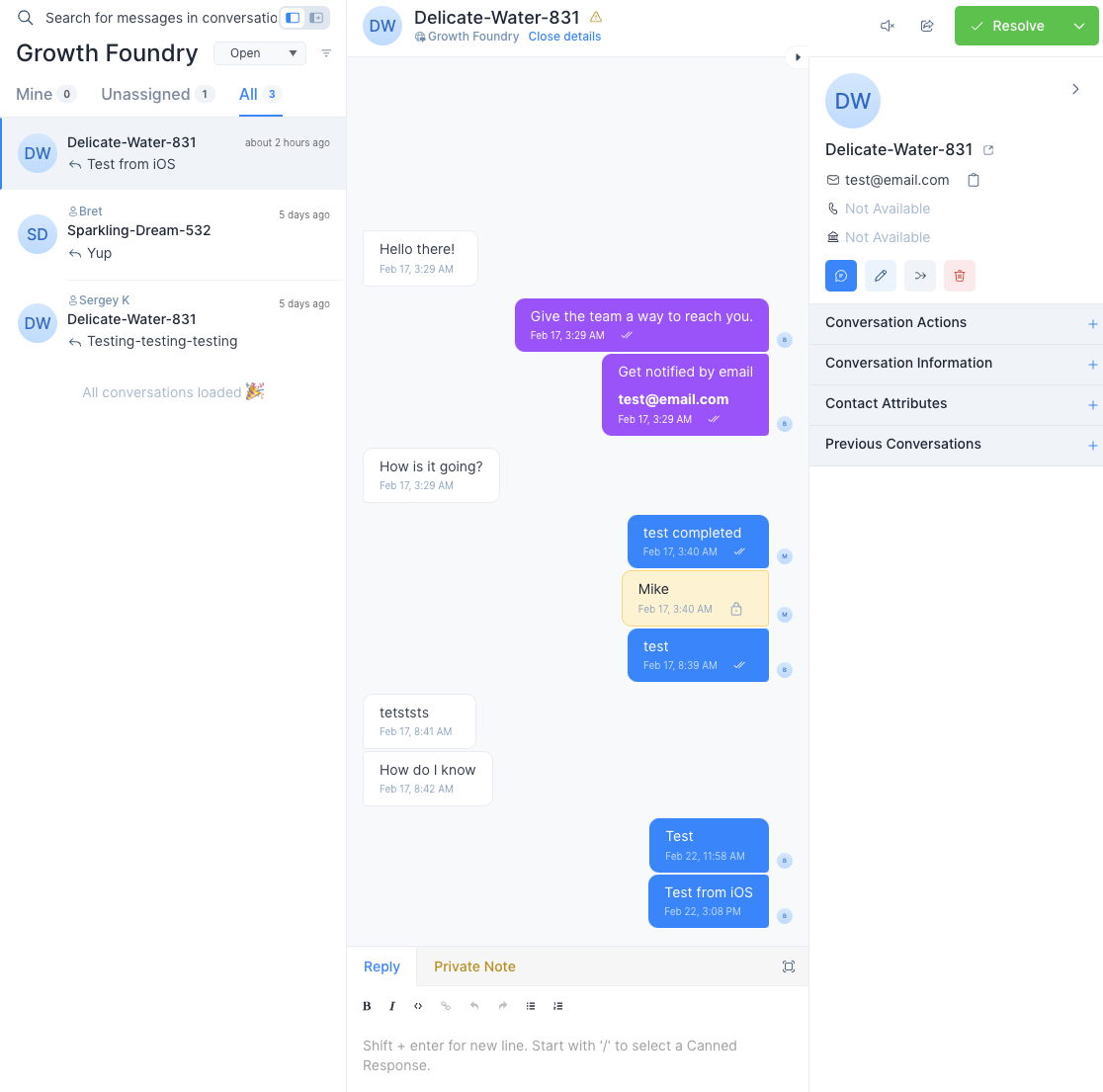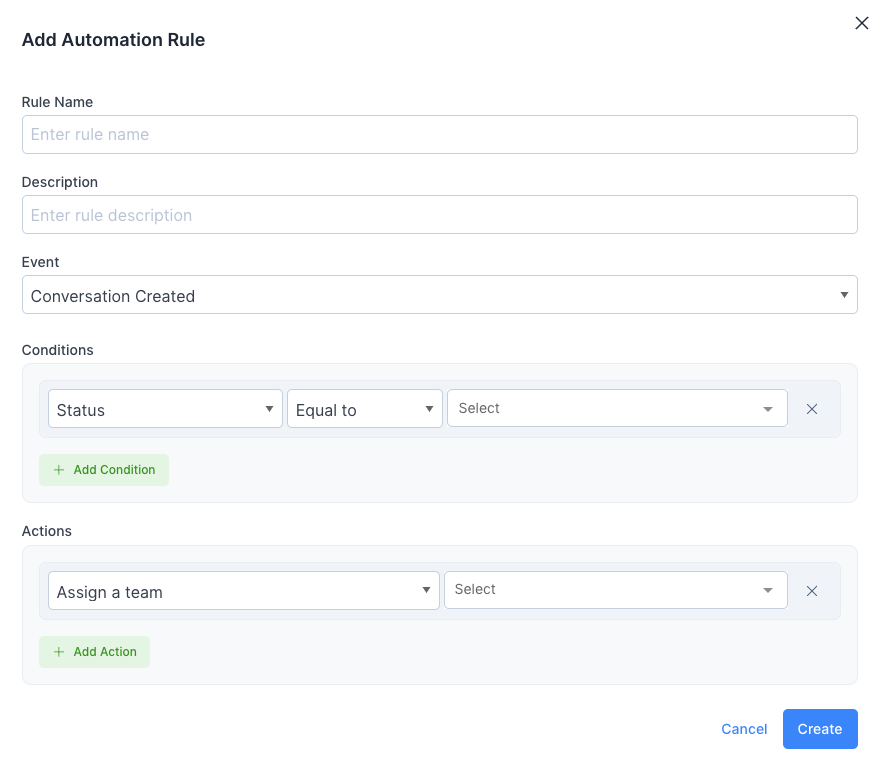 Save Even More Time and Money Through Automations
Use preset automations to organize your chats, add labels, and assign team members to avoid major pains in the neck. Individually assigning and categorizing every conversation can be a drag at scale but with Linda you can create a few rules that occur when selected triggers are engaged.
Forget the tedious time suck and do not waste time when your new platform can automagically do it for you.
Automation flows are simple to create using our triggers and rules. Nested inside of a dropdown menu are a few triggers you can choose from. Select one or more conditions and determine what actions ought to occur when those qualifiers are met. This takes no more than a few moments to set up.
Automations can be triggered from three different activities that occur, "new message", "new created conversation", or "chat updated".Select from a list of intelligent conditions to qualify. You can choose one or more as your criteria for your automation event to take place.
Let Linda do its job and handle all of the heavy lifting as you choose from a large list of tasks to be automated in relation to your conversations, or to further engage and organize your team. Harness the power of AI and automation to accomplish more with less money and people power.
Prebuilt Forms Nested Inside your Chat Widget Further Drives Efficiency and Boosts Conversions
Linda allows your team to avoid asking for the same redundant information for every visitor over and over again. Customizable embedded forms can automatically collect information to more efficiently convert website visitors into leads as you gather pertinent insights about them and their needs while also allowing your customer support team to help with problems faster by avoiding the introductory portion of the conversation.
Forms are simple and fast to build. You can use our preset blocks to gather information like name, email, phone number, etc. but do not be limited by that! You can build your own custom blocks by mapping them to custom fields that you create in your Linda account.
Continuous automation and optimization is the name of the game and Linda gives you aces up your sleeves to have an edge at the table.
Learn more
Linda Helps you Go Beyond Omnichannel Messaging and Act as a Vehicle for Growth and Efficiency
Our goal was to provide a simple out of the box live chat and omnichannel messaging platform that businesses can "pick up and go" to help their day to day sales and support. Mission accomplished, but we wanted to take it a step further and give businesses the power to manage their relationships at a more granular level.
Learn more
Linda's Labeling System Gives you a Cheat Code for Workflow and Sales Improvement
While you might not chat with the same person about the same thing everyday, if you look at your company's conversations you will find they can be categorized into buckets based on similarity.
With Linda you can add labels to conversations on the go. This can alert the proper department like "customer support", "sales", "vendor", etc. so the proper personnel handles a conversation best suited for their expertise but also provides a segment of data to analyze.
Choosing a label's "segment" in your dash gives you insight into a treasure chest of data surrounding that department and those conversations. Want to see how many people are complaining about a certain employee's work? Do you want to drill down into your most popular sales objections?
It's all at your fingertips. Sorting and analyzing this data manually would be a cumbersome process so let Linda make it easy.
Learn more
Creating Teams Inside of Linda Boosts Efficiency and Intelligent Responsivity Company Wide
Most businesses do not only get one type of message so why cast all of them into an inbox void and make your staff fend for themselves? With Linda you don't have to.
Avoid clutter and peripheral distractions by assembling teams by the scope of their responsibilities and keeping them laser focused on conversations they can best add value to. These teams are easy to set up and only take a few minutes.
Create a new team. Add the appropriate members. Press go.
Learn more
Let's create more tools and ideas that brings us together.
Flowbite helps you connect with friends and communities of people who share your interests. Connecting with your friends and family as well as discovering new ones is easy with features like Groups.
Robust Website Chat
All of the features and functionality you need to stay on top of your communication.
Linda Provides Robust Analysis Capabilities Because you Can't Improve what you Don't Track
Use a variety of reports to determine how satisfied your customers are with your brand's handling of conversations, how individual team members are performing, the volume of specific chat types and find common problems and optimization opportunities in your business.
Live Overview Capabilities Mean you Can Keep a Pulse on Performance and Metrics in From One Dashboard
Keeping track of this manually is a nightmare. We created a view where all of these items are displayed for you to peruse at your leisure without needing to spend your afternoon fidgeting with reports and staring at exported data in some graphing tool. We do it for you so you can understand how your conversations are being managed, who is doing what, who needs help and who can do more.
Detailed Conversation Reports Allows you to Step into the Big Leagues of Converting Visitors into Leads and Managing Customer Support
The obvious metrics to track that we can pull from conversations like overall satisfaction, most common problems, etc. are crucial but there are equally important secondary activities to consider as well.
Linda gives you powerful insights into things like resolution counts, time to first response, and resolution time. This data is presented to you in a clean dashboard so you can easily parse through these secondary metrics and use them to make decisions for your business and staff.
Detailed Staff Reports Keep you Efficient and Organized
No matter if you have a single team member or 1000, it's important to keep tabs on your conversation volume, reply times, and speed to resolution. This data is collected into a simple to read and understand report that allows you to look at a single staff member's performance or take a more broad look at how your team performs across secondary metrics.
Pull Label Reports and Understand What Types of Conversations your Team is Having and the Metrics Associated with Them
Understand how different conversations occur within the categories you made with labels. Identify if speed to response times for certain areas of your business need attention. Are your sales labeled conversations taking too long to respond to? Speed to lead is a critical component of conversions and sales in our current fast paced online environment.
Do support requests or complaints take too long to get resolved thus resulting in angry customers and reputational issues? Your dashboard can provide this information and more so you can proactively improve how your business handles conversations leading to happier customers and increased conversions.
Single Click Enabled CSAT (Customer Satisfaction Score) Surveys and Reports
Forget complicated tech or multi step surveys that take a ton of time to build, Linda has one click to enable CSAT capabilities built right into your dashboard.
Always know the sentiment customers and visitors have when dealing with your brand by just asking them how their experience was. Users can quickly assign an emoji score to their interaction and this data is piped into your dashboard and reports with real time updating metrics so you always know how people are feeling when conversing with your brand.
Linda Creates Massive Boosts in Productivity While Boosting Conversions, Sales, and Customer Satisfaction
Here at Linda we packed a ton of productivity increasing features into your tool suite. Nothing was left to the imagination.
Keyboard shortcuts and Command Bar Enabled Actions for the Efficient Power User - These features are like putting nitrous in a race car the way they'll allow your power users to navigate and control the system with but a few keystrokes and button clicks
Bulk action capabilities allow you to update, assign staff, and/or perform other important actions across as many of your chats as needed. Combined with our smart action logic you are sure to save boat loads of time
Linda's canned responses will be a game changer for your business. Just another tool in the vast tool belt of our feature set, your staff will save countless hours with the ability to answer complex recurring questions and solve sales and customer service scenarios with a few keystrokes by deploying detailed prepared blocks of chat
Configurable staff capacity intelligence makes it so you can ensure the optimal workload distribution on a staff member or inbox basis. Make sure no one is getting overwhelmed and your response and resolution times are up to par
Stay in the Know with "Always up to Date" Inbox Reports
Managing a bunch of staff across many channels means having plenty of inboxes to manage. We make it super simple to view insights across all of your inbox interactions to understand how inboxes are measuring up when primary and secondary metrics are analyzed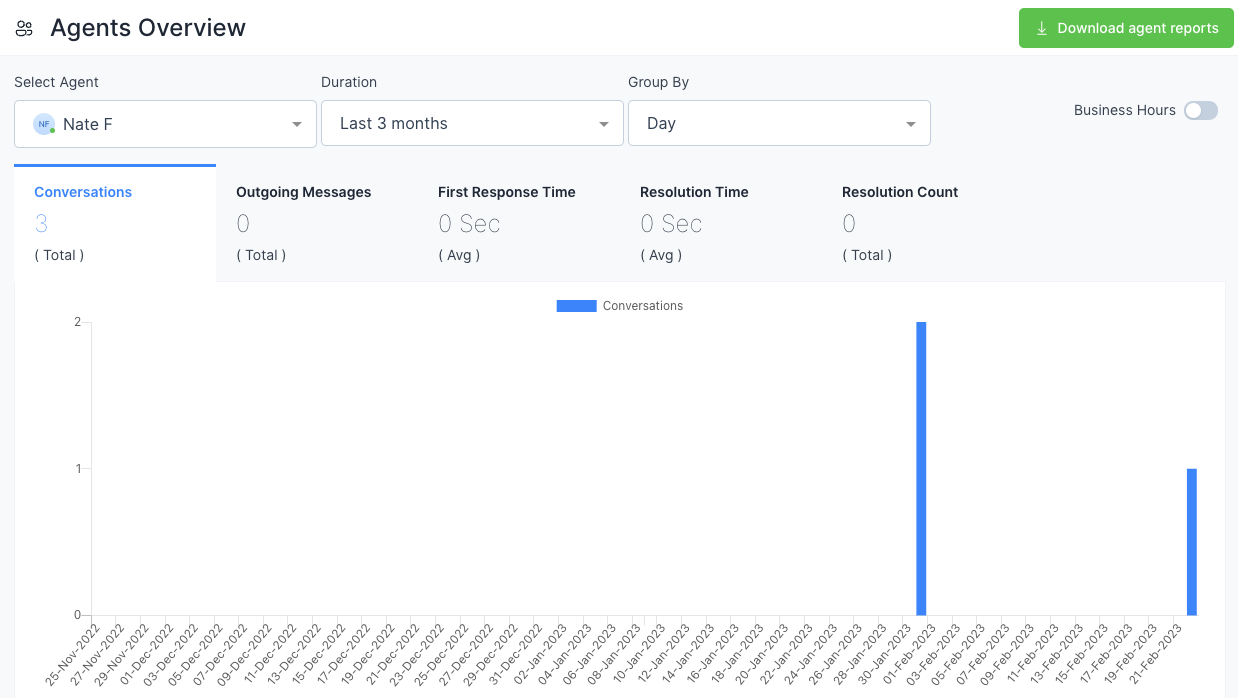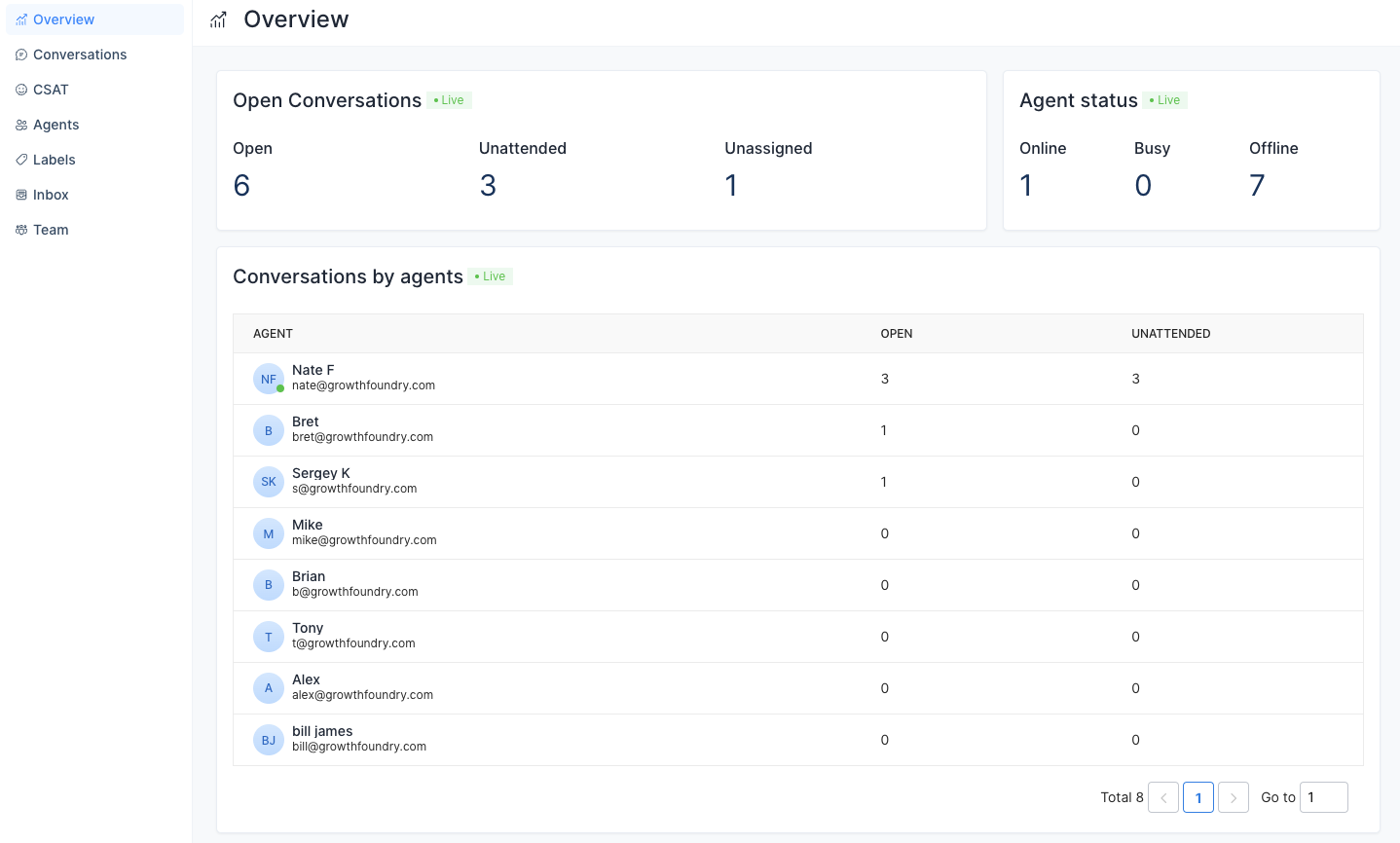 Frequently asked questions
What channels can I pull in the messaging from into Linda's system?
We support your Email inbox, Twitter, Facebook, Instagram, and SMS. Of course your live chat messages from our widget will appear here as well.
How hard is it to add the Live Chat widget to our site? If we have trouble can you do it for us?
Adding the widget is very simple. All of your configuration happens in a dashboard but then its as simple as adding a snippet of code to your website. If you have any issues just contact support and someone from our side will help you.
Will we need to pay more if we need to add more staff into the system?
No way, Our pricing is inclusive. Whether you want to add 1 staff member or 1,000+ we want you to add freely. As many as you need. Never any hidden costs or fine print.
Is there a limit to how many conversations I can have?
No there is no limit to the amount of conversations you can have, or the amount of team members you can have communicating with them.
Can I set hours that I am available?
Yes, the system supports schedules that can be used during business hours or any special hours you may want to set.
Is there a mobile app?
Being able to respond to leads expediently is extremely important and as such, yes - there is a native mobile app for both Android and Apple.
How does installation of the website chat widget work?
The chat widget installation process is as simple as making a single text edit to your website - to add a javascript snippet that allows for the chat wiget to work.
Do you offer a Done For You service for website chatting?
Yes, our done for you service offering includes a business hours answering service.